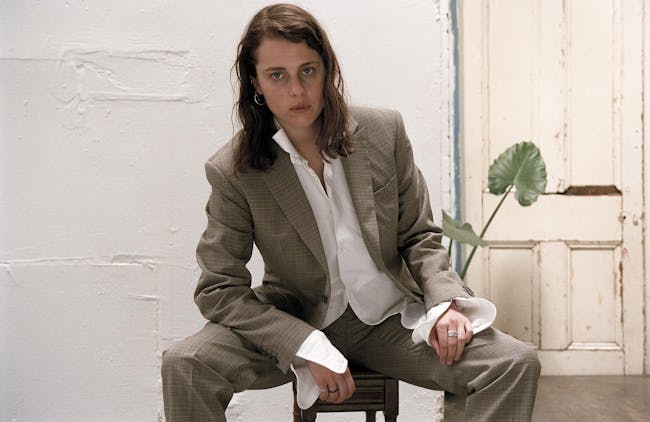 9:30 presents at U Street Music Hall...
Marika Hackman
Girl Friday
$15.00
Sales Ended
On Ticketfly
9:30 presents // Marika Hackman w/ Girl Friday // @ U Street Music Hall
MARIKA HACKMAN
"hand solo," "blow," "conventional ride"—these are just a few of the cheeky offerings off Any Human Friend, the new album from rock provocateur Marika Hackman. "This whole record is me diving into myself and peeling back the skin further and further, exposing myself in quite a big way. It can be quite sexual," Hackman says. "It's blunt, but not offensive. It's mischievous." There's also depth to her carnal knowledge: Any Human Friend (out via AMF Records and Sub Pop Records in North and South America) is ultimately about how, as she puts it, "We all have this lightness and darkness in us."
Hackman lifted the album's title from a documentary about four-year-olds interacting with dementia patients in senior homes. At one point, two little girls confer about their experience there, with one musing on how it's great to make "any human friend," whether old or young. "When she said that it really touched a nerve in me," says the London-based musician. "It's that childlike view where we really accept people, are comfortable with their differences."
Such introspection has earned Hackman her name. Her 2015 debut, We Slept at Last, was heralded for being nuanced and atmospheric. She really found her footing with her last release, I'm Not Your Man—which earned raves from The Guardian, Stereogum, and Pitchfork—and its sybaritic, swaggering hit "Boyfriend," which boasts of seducing away a straight guy's girlfriend. "Her tactile lyrics keep the songs melodically strong and full of surprises," remarked Pitchfork. We'll say!
"I'm a hopeless romantic," she explains. "I search for love and sexual experience, but also I'm terrified by it." Hackman is a Rid of Me-era PJ Harvey for the inclusive generation: unbounded by musical genre, a preternatural lyricist and tunesmith who isn't afraid to go there. (Even her cover art, which finds Hackman nearly nude while cradling a baby pig, is a nod to Dutch photographer Rineke Dijkstra's unfiltered photos of mothers just after they gave birth.) To that end, "hand solo" extorts the virtues of masturbation and features Hackman's favorite line, "Under patriarchal law, I'm going to die a virgin." The song "blow" paints a picture of social excess. And "conventional ride" thumbs its nose at heterosexual sex through "the trope a lot of gay women experience: sleeping with someone, then it becomes apparent you're kind of an experiment."
With Any Human Friend, boundaries are no longer an issue for her. "I sent 'all night' to my parents and they were quite shocked," she says of the paean to the flesh, dressed as a sweetly harmonic track. "Why does it sound shocking coming out of my mouth? Women have sex with each other, and it seems to me we aren't as freely allowed to discuss that as men are. But at no point am I disrespecting the women I'm having sex with. It can be fucking sexy without banging people over the head with a frying pan. It's sexy sex."
Sharing intimacies with her parents makes sense when you consider she wrote 'the one'—a portrait of the artist amid identity crisis where she crashed after a painful break-up with a longtime girlfriend. "'send my love' is a proper breakup song," she says of the levitating, string-laden track. "I actually wrote that in a moment of grief. It's a strange take on it because I'm imagining myself as my ex-girlfriend." She penned its companion track, "i'm not where you are," a melodic earworm about emotional detachment from relationships, roughly six months later.
"I think because my life was flipped upside down, it was taking me longer to write," she says. "This was definitely the hardest process I've gone through to make a record." She wrote the album over a year, recording a few songs at a time with co-producer David Wrench (Frank Ocean, The xx). "I stopped being able to sleep properly," she says. "I was waking up in the middle of the night to write songs."
But the longer recording process also meant that Hackman had the time to experiment in the studio, especially with electronic songs. She was inspired by Wrench's vast synth collection, many of which she used throughout Any Human Friend ("the synths give the album a nice shine"), notably on "hold on," a deep dive into ennui expressed as ethereal R&B. She also switched up drum rhythms and wrote songs on the bass, such as the upbeat, idiosyncratic "come undone" (working name: "Funky Little Thang").
Hackman bookends Any Human Friend with some of her most unexpected musical turns. The first song she wrote, "the one" (technically its second track), is "probably the poppiest song I've ever written," she says. "It's about that weird feeling of starting the process again from scratch." To that end, it features a riot grrrl Greek chorus hurling such insults at her as, "You're such an attention whore!" The title track closes out the album and explores how, "when we're interacting with people, it's like holding a mirror up to yourself." It's a weightless coda that's jazz-like in its layering of rhythmic sounds as if you're leisurely sorting through Hackman's headspace.
"The drive to do all this is all just about trying to work out what the fuck is in my brain," she says, laughing. The dragon she's chasing is a rarified peace that materializes after properly tortured herself. "I really did have a good time working on this album," she says, reassuringly. "It's just emotionally draining to write music and constantly tap into your psyche. No musician is writing music for themselves to listen to. It's a dialogue, a conversation, a connection. I'm creating something for people to react to."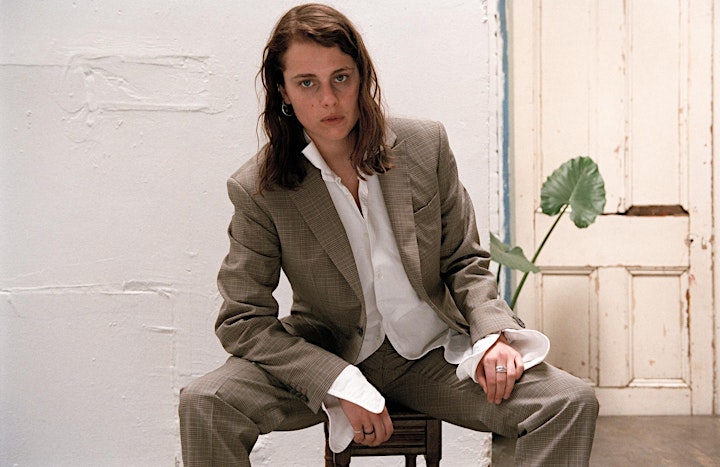 GIRL FRIDAY
Girl Friday think of themselves as an explicitly feminist project, though not in the didactic way one might expect from that appellation. The L.A-based quartet, founded by bassist Libby Hsieh and guitarist Vera Ellen after they met at a UCLA house party a couple of years back, operates collectively, each member taking turns at the microphone and equal parts in songwriting; they're all big personalities and big presences, but they find balance—and complement—in one another. There had been iterations of the band before, but none had truly clicked until drummer Virginia Pettis and guitarist Sierra Scott joined. This is the iteration of the band found on Girl Friday's new EP, Fashion Conman; in four nimble tracks, these young women are able to fuse mod-pop a la the early Bangles with '90s alt-rock ("we all love Hole," they say with enthusiasm), the urgency and tension of minimalist '70s post-punk, and contemporary observations, without sounding like pastiche. They're uninterested in genre designations, and hope nobody's ever able to pinpoint them in a word.
The feminist collective, of course, is a storied radical tradition, tied closely to the practice of consciousness-raising, in which collective members shared stories of their own lives in order to find commonality, learn one another's perspectives, analyze systems of oppression, and find imaginative and active solutions. On Fashion Conman, Girl Friday are coming of age, trying to find their footing in a world in which image is clearly prized over substance. None of them are L.A. natives—they take aim at the noted sinister shallowness of entertainment industry interactions in that city on "Decoration/Currency," which swings easily from sweetly melodic verse to distorted, fist-raising chorus. "Headstones" and "Lullaby No. 13" point not just to a nightmarish present but to the possibility of escape, of finding safety with one another. "Generation Sick" is a pointed indictment of abusive men and all those who protect them. (These songs are also, it should be noted, wickedly catchy).
Girl Friday are a band out of time—sensitive, perceptive, careful songwriters who feel displaced in this moment, but find comfort and resilience in their friendships with one another and the music they make together. On Fashion Conman, they've got plenty of truths to speak, if you're ready to listen.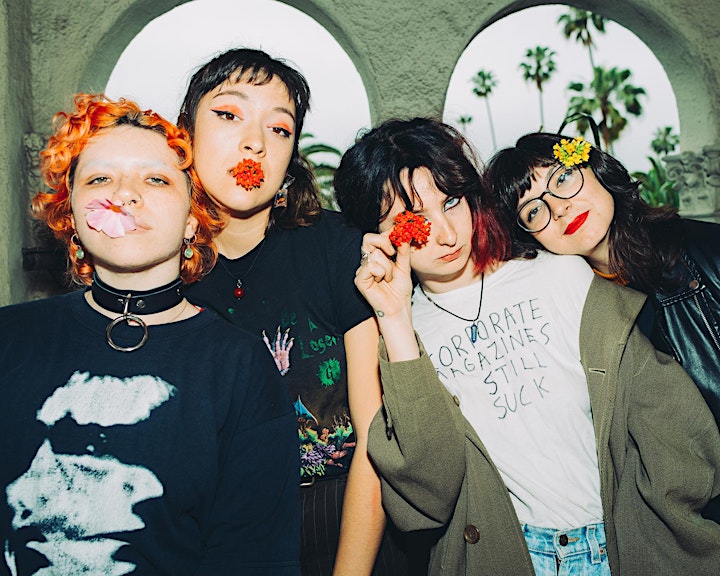 Venue Information:
U Street Music Hall
1115A U St NW
Washington, DC, 20009