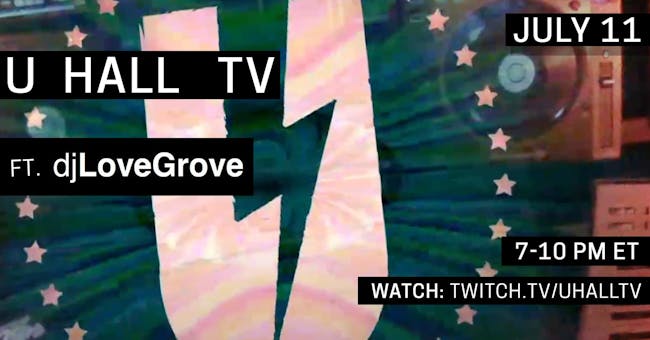 FREE. Watch live from 7-10PM at twitch.tv/uhalltv. Support artists & U Hall staff: Donate to the U HALL TV Tip Jar on Venmo at @uhalltv
Join us at the club (virtually!) for the next installment of U HALL TV on Twitch. This time we're welcoming LoveGrove.
*** Support artists & U Hall staff: Donate to the U HALL TV Tip Jar on Venmo at @uhalltv ***
Buy a U Hall shirt! Proceeds benefit U Hall's staff during this shutdown.
LoveGrove
A founding member of the Baltimore "rave" scene, DJ LoveGrove began his DJ career in 1989, on the radio at then WCVT Towson State University. His regular Saturday night dance show that mixed early Techno and House with Industrial, New Beat, and UK "MADchester" caught the attention of a young Scott Henry, and a mentorship/friendship was born. "LG" soon began playing in Baltimore's underground clubs, just before the "rave" scene took hold. While Scott was rising in the ranks of the East Coast scene, LG was promoting and organizing bus trips to the early Storm Raves in Brooklyn, which led to the formation of a crew of like minded ravers, organizing as Atomic Vibe. The "AV" crew began a fanzine called Further and started hosting "chill-out" rooms for events, in addition to throwing two larger warehouse raves of their own.
LG took on the DJ "LoveGrove" moniker, as his success as a chill-out room DJ grew, and he broke from Atomic Vibe to form Sonic Soul Productions with DJ Bobble. Their focus would be on "non-main-room" DJ events, "free-form gatherings" which would come to be known as "CloudWatch". While CloudWatch was gaining international acclaim, LG started another zine, called Retina, this time with a more professional feel, national distribution, and a solid focus on music. With his profile and reputation growing, LoveGrove became a resident and fixture at Buzz, Fever, and Ultraworld events. Sonic Soul partnered regularly with Ultraworld to host stages at their larger events, in addition to promoting smaller lounge one-offs and weekly events under the "Sonic Social" name.
By the end of 90's, LG partnered with Ultraworld's Lonnie Fisher to open Sonar, in the Baltimore neighborhood of Canton. Originally a small lounge / cafe concept, Sonar proved quite popular and was named Baltimore Best New Bar by the City Paper in 1999. Sonar moved to a larger warehouse space less than two years after its original inception, and about six months after the move, LG left Sonar to take a role in the opening of Mosaic Lounge, where he focused on booking deep house artists and ran a Saturday night residency. His signature sound had moved from chill-out / downtempo to a more sophisticated lounge-house style.
LG's run with Mosaic lasted six years, ending in 2008. He retired from promoting, which has led to playing more regularly around Baltimore and DC as an invited guest, at his favorite venues. He has been known to resurrect the CloudWatch name for anniversary one-off events and for the final Fever parties, but LoveGrove is best known for a sound of chill house music that embraces elements of Afro-beat, latin jazz, funk, and soul -- which won him Baltimore's Best DJ in Baltimore Magazine in 2003 and "Best Club DJ" from Baltimore City Paper in 2002.
An OG with over 30 years in the DJ booth, LoveGrove feels there is still too much good music being released for him to put down the headphones, and he cherishes each opportunity he gets to get behind the decks.
www.facebook.com/DJLoveGrove23
www.soundcloud.com/DJ-LoveGrove
Venue Information:
U Street Music Hall
1115A U St NW
Washington, DC, 20009