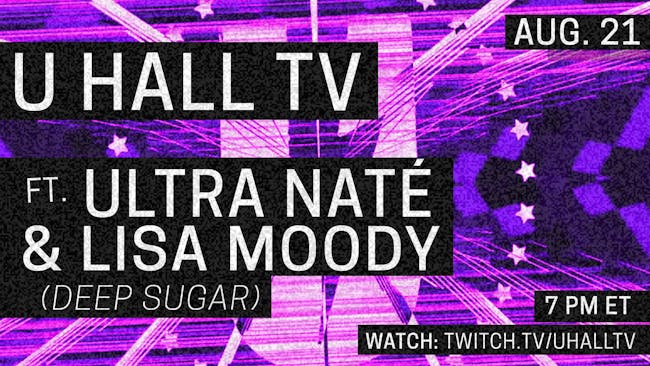 FREE. Watch live at 7PM ET at twitch.tv/uhalltv. Support artists & U Hall staff: Donate to the U HALL TV Tip Jar on Venmo at @uhalltv
Join us at the club (virtually) for the next episode of U HALL TV. This week we're welcoming Ultra Naté & Lisa Moody (Deep Sugar | Baltimore).
DS as it is lovingly called was birthed in 2003 starting as a Friday night Happy Hour at mini warehouse club - Sonar. It quickly morphed into a movement throughout Baltimore and beyond ushering in a quick evolution.
It's next phase was as an after-hours at Club 1722 and then on to the mammoth sized warehouse super club - the legendary Paradox. Along the way building residencies in Washington, DC at U Street Music Hall, New York City at LeBain at The Standard Hotel as well as The Standard Hotel in Los Angeles. DS has also become a regular staple in Miami for Winter Music Conference/Miami Music Week annually! A Deep Sugar party is a multicultural and extremely diverse coming together of likeminded people! At DS we come to dance and celebrate the music in a pure underground experience that takes you back to the fundamentals of clubbing. For Deep Sugar heads - this is not just a lifestyle..it's church.
The story began when international dance music recording artist Ultra Naté along with DJ Lisa Moody and key friends, artists & DJs from Baltimore - made a commitment to give something back to the scene and keep it thriving. Their goal was to create a world-renowned, marquis dance party that follows in the footsteps of Paradise Garage, Zanzibar, Odell's, The Warehouse, The Paradox, Club Shelter, Club Fantasy and Body & Soul. Which simply means it goes beyond being just another party but more of a cultural and spiritual experience. A safe space to tune the stress and cares of the world out and let your soul soar!
The Deep Sugar party showcases Ultra Nate' & Lisa Moody as "The Sugar Girl Squad" DJ duo as well as Baltimore resident DJs and world-renowned guest DJs and performing artists. Previous guests have included Jody Watley, Tony Humphries, Dawn Tallman, DJ Spen, SuSu Bobien, DJ Marley Marl, Terry Hunter, Martha Wash, CeCe Peniston, Louie Vega, Jocelyn Brown, Mr. V, Barbara Tucker, David Morales, Kathy Sledge, Crystal Waters, Colton Ford, Quentin Harris, Inaya Day, The Elders, Kevin Aviance, Timmy Regisford, Monique Bingham, Osunlade, Byron Stingly, Sting International, Dajae, Dimitri From Paris, ADEVA, Soul Clap, David Harness, Jihad Muhammad, Maysa, DJ Tanz, Donnie, Duane Harden, Teddy Douglas, Donna Edwards, Thommy Davis, Charles Feelgood, Jason Walker, MURK, The Jungle Brothers, Michelle Weeks, Donna Edwards, Jovonn, Tony Touch, Sam Burns, Frankie Knuckles, Carlos Sanchez, Tedd Patterson, Kenny Dope, Oji & Pope, Monique Bingham, Joe Clausell, The Lady Alma, Danny Krivit, Kevin Hedge, DJ Biskit, Francois K, DJ Spinna, Terry Hunter, Ann Nesby, Thomas Dolby and Ultra Nate' & Quentin Harris as Black Stereo Faith Band - to name a few.
Deep Sugar's sound is characterized by a blend of true deep house, soulful house, Afro, disco, and classics thrown in, while giving a nod to some of the harder tech house sounds - a formula that has kept Sugar party goers' feet rooted to the dance floor remembering the past and looking towards the future. Deep Sugar moves forward in the world of music with a vision, a dream, plenty of heart, soul and two kick ass chicks ready to bring the beats!
https://www.youtube.com/user/deepsugarlove
https://www.twitch.tv/ultranatetv
https://www.facebook.com/deepsugar
https://www.facebook.com/ultranatemusic
https://www.facebook.com/DJLISAMOODY
https://www.instagram.com/ultranatemusic
https://www.instagram.com/djlisamoody
https://www.instagram.com/deepsugarparty
http://www.twitter.com/DEEPSUGAR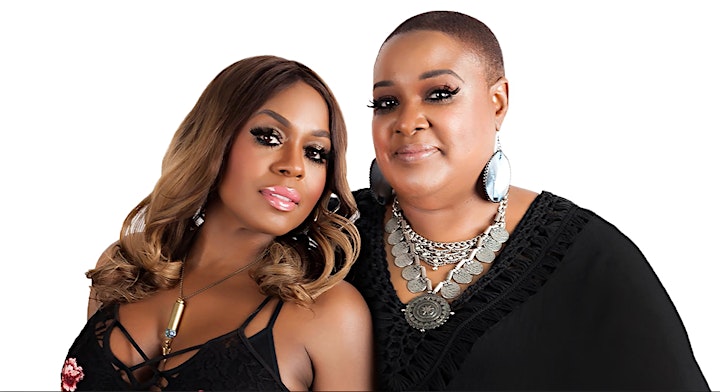 Venue Information:
U Street Music Hall
1115A U St NW
Washington, DC, 20009